"WAITER!" - Meglif

Meglif is a female member of the IMP and is one of the strongest. She's skilled at martial arts and has a wicked temper. She's romantically linked to Henrik and has a dislike for Zody. She's related to Mayleen (her sister) aunt to Brany. She's stubborn, feisty, bit of a tomboy and highly impatient.
Her fur is gingery red with orange round the face area and inside her ears and the tip of her tail. 
Appearance 
Edit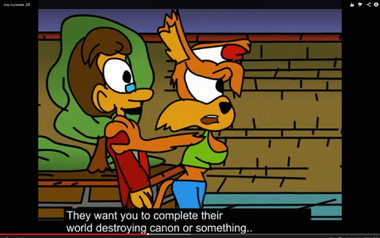 Meglif's outfits have changed dramatically throughout many episodes, she's been seen footless in the first Christmas Special, but most of the time seen wearing either a yellow or green shirt. Her most notable feature is the headband on her head holding back her fringe, as both she and Mayleen used to look so alike until a few changes later. 
Voice Actors
Edit
Male voice actors (Usually Roger) (Increased pitch)
Unknown (Episode 20)
Lindsey (Between Unknown and Steph)
Sassi16/Steph (2007-Present)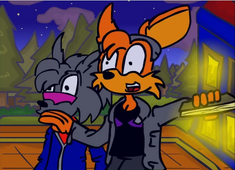 Ad blocker interference detected!
Wikia is a free-to-use site that makes money from advertising. We have a modified experience for viewers using ad blockers

Wikia is not accessible if you've made further modifications. Remove the custom ad blocker rule(s) and the page will load as expected.