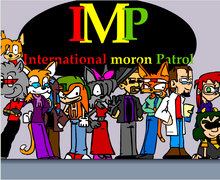 Welcome to the International Moron Patrol wiki!
International Moron Patrol, created by Roger van der Weide, debuted on November 16, 2003 on Newgrounds. It's a series that revolves around a team of heroes that, in theory, are meant to save the world, but in reality, are rather lazy or incompetent, and not usually too keen on getting down with fighting. All the characters, episodes, specials, and other stuff IMP-based will be found here! Time to barbeque!
http://www.newgrounds.com/collection/imp
http://www.youtube.com/Rogerfromimp
https://www.facebook.com/groups/internationalmoronpatrol/
Ad blocker interference detected!
Wikia is a free-to-use site that makes money from advertising. We have a modified experience for viewers using ad blockers

Wikia is not accessible if you've made further modifications. Remove the custom ad blocker rule(s) and the page will load as expected.