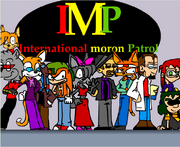 International Moron Patrol

Genre

Comedy

Original Release

November 16, 2003 - Present

Main Networks

Newgrounds DeviantArt YouTube
The International Moron Patrol is an animated comedy animated mostly by Roger van der Weide. It is based on the adventures of the eponymous International Moron Patrol. Currently, IMP episodes are made every once in a while.
The International Moron Patrol is set in the fictional Itty City. Australia has also been featured as a location in the IMP as well as Sweden.
Ad blocker interference detected!
Wikia is a free-to-use site that makes money from advertising. We have a modified experience for viewers using ad blockers

Wikia is not accessible if you've made further modifications. Remove the custom ad blocker rule(s) and the page will load as expected.