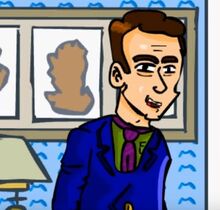 Bob Saget is a comedian based on the real life Bob Saget. In the IMP series, he is portrayed to be extremely unfunny, comparing the criticism given to him by other people. Since his jokes are unfunny, or to put simply anti-humor, it is considered by most IMP characters, especially Roger, that his jokes are extreme torture.
Ad blocker interference detected!
Wikia is a free-to-use site that makes money from advertising. We have a modified experience for viewers using ad blockers

Wikia is not accessible if you've made further modifications. Remove the custom ad blocker rule(s) and the page will load as expected.